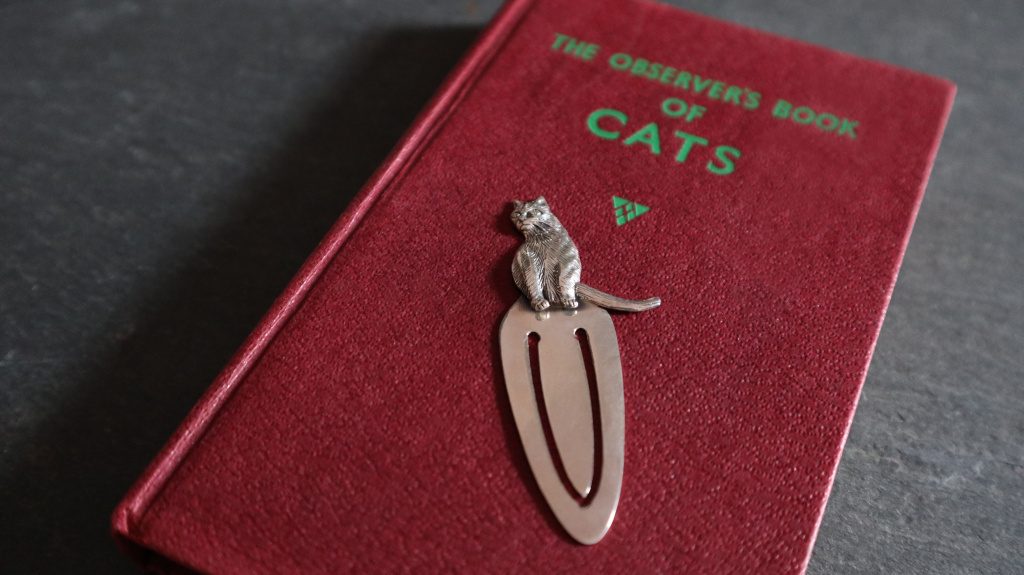 Bookmarks for cat lovers at Thrilled Kitty Art & Antiques
Solid silver cat bookmarks are one of our most popular ranges at Thrilled Kitty. They make fantastic gifts for a cat lover, a little touch of luxury that's sure to delight anyone who loves the idea of curling up with a good book while a cat snoozes contentedly beside them. Packaged in one our our hand-finished ribboned black gift boxes (which contrast beautifully with the polished sterling silver) they are ready to give as a present immediately: no wrapping required!
We're always searching for interesting examples of cat-themed bookmarks to bring to our customers. Our collection varies from the freshly-cast to the vintage and antique, and from small, lightweight pieces which are perfect for a paperback up to heftier page-markers for your big hard-backed volumes. You won't find a selection like this anywhere else!

Explore our range of bookmarks
Creative gifting!
Our bookmarks make great presents on their own, but with a little creativity you can make them even more memorable. Here are a couple of ideas:
The Important Date: Marking an anniversary or other special occasion? Add a personal touch to one of our larger bookmarks by writing a message on a slip of quality paper or card to tuck under the blade. They don't have to be used as bookmarks: a heartfelt inscription held in a beautifully-cast silver clip could be a treasured keepsake in itself.
The Thoughtful Extra: If your lucky loved one is getting more than one gift, a feline-themed bookmark would go perfectly with a feline-themed book. We occasionally add rare vintage books to our catalogue, so if you're not finding anything inspiring at your usual bookseller follow the link below to see what we have in stock right now. Remember we offer free First Class UK shipping on all orders over £40.

Explore our stock of rare books
Our guarantee of quality
Our sterling bookmarks are guaranteed solid silver. On each one you will find a standard or fineness mark (typically 925 for sterling silver). A sponsor's mark (identifying the silversmith or the company which submitted the piece for hallmarking) may also be included, and on some (especially older or heavier examples) you may find a full set of hallmarks, adding an assay office stamp, a date letter and a traditional fineness mark. You'll find all of these detailed in the 'Marks' section near the bottom of the product description.
Remember you can shop with complete confidence at Thrilled Kitty, with our commitment to the strictest UK e-commerce security and privacy standards and with safe payment processing provided by PayPal. Why not jump into our catalogue and find a unique gift for the cat lover in your life.