Our Guide to Framing & Displaying Your Artwork
Part 1: A Guide to Mounting and Framing
Part 2: The Framing Process
Part 3: How to Hang Your Artwork
Part 4: Advanced Framing Tips
---
A good frame should fulfil three functions. It should:
Enhance your artwork
Complement your décor
Protect your investment
In this guide we'll take a look at how you can pick your perfect frame, how you can add some professional finishing touches, and how you can display your beautiful new feline artwork in your home to best effect.
---
Why isn't it framed already?!
---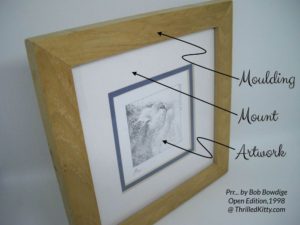 Why buy unframed artwork?
Buying unframed artwork gives you control of the many framing options and lets you get creative, adding your own personal touch to the artist's work.
Although we do have many fully-framed artworks available at Thrilled Kitty, and have a limited in-house framing service available, most of our prints and artworks are supplied 'mounted'. This means that the artwork has been fixed into a custom-cut bevelled window mount (also known as a mat or passe-partout) with a backing or under-mount and is ready for the final stage: to be dropped into an empty frame.
Why is a mount needed?
The window mount is crucial as it sits between the picture and the frame, preventing it from touching the glass (which can lead to a build up of moisture, ruinous particularly for delicate pastel and watercolour works). It also enhances visual appeal by creating negative space between the picture and the edge of the frame (the moulding), which builds balance and draws one's eye to the art.
What is an under-mount?
The use of an under-mount (a mat that sits behind the artwork to create a protective 'sandwich') is a requirement to meet Fine Art Trade Guild standards in framing; it gives additional protection from moisture and environmental pollutants, and it allows artwork to be properly secured with a 'hinging' method which means that the absolute minimum of adhesive touches the piece and allows a margin for the paper to expand and contract as temperature and humidity levels change throughout the year. Many frame-makers and print-makers will omit the under-mount as it it not seen once the frame has been closed up, and instead simply tape the artwork firmly to the back of the window mount; this will pass undetected for a few years, but can eventually lead to buckling and cockling of the paper as it is unable to expand, and can also lead to yellowing from adhesive bleed if they have not used conservation-grade tapes. And from a purely aesthetic point of view, we feel that a quality under-mount is a vital finishing touch to make the artwork into a beautiful ready-to-give gift if you would like to leave it up to the recipient to pick a frame.
---
More About Thrilled Kitty Mounted Artwork
---
Fine Art Trade Guild accredited materials
We use only Fine Art Trade Guild accredited materials throughout the mounting process to create a finished piece that is both attractive and well protected for the future. We work to the conservation principle of reversibility in everything we do: the materials and processes we use should have the minimum impact on the print or artwork itself, meaning that the mount and under-mount can be easily removed and replaced in the future if desired. We typically use Larson Juhl Arqadia conservation mountboard, or Daler Rowney or Slater Harrison pH neutral board, with PH7-70 brand conservation-grade adhesives.
Preparing an artwork for sale
Every project at Thrilled Kitty begins with a careful assessment of the artwork. We prepare a bevelled window mount which is custom fitted to give the best result for each individual piece. We then prepare an under-mount, and to this we carefully fix the artwork using the most appropriate low-impact method for the piece, which might be hinge-mounting with conservation tape, or edge-mounting with archival edging or corners. Next we attach a gallery label to the back which lists the artist, title and any other information we have on the artwork. Finally, the finished piece goes into an archival-grade crystal-clear bag to add an extra layer of protection until you are ready to frame it.
---
How Do I Choose A Frame?
---
Buying a new frame
Framing can seem like a complex and daunting task. You might have bought an unframed print in the past and found that it has been mounted in such a way that it doesn't fit into any commonly available frames, leaving you no choice but to take it to a custom frame-maker. At Thrilled Kitty, however, we make it extra easy for our customers by working to standard frame sizes whenever possible, carefully balancing the needs of the artwork with convenience for the new owner. This means that you can take advantage of the vast range of ready-made frames available from interior design and homeware shops, both on the high street and online, and pick an option that fits perfectly with your interior decoration and your other framed pictures. We note the required size in inches (such as 8″ x 10″, or 16″ x 20″) on the product description page, so simply browse your preferred retailer for frames in that format.
Re-using an old frame
If you have the time and inclination to get a little more creative, re-purposing old frames is a fantastic way of achieving an eclectic and individual look at very little expense. You may already have a great-looking frame holding artwork that you no longer enjoy, or you might spot a likely candidate in a charity shop. Some antique shops can be a particularly rich source of characterful frames, especially if they deal with house clearances, and may have large stacks of framed prints of uninteresting subjects that are ripe for plunder. Light scratches on wooden frames can be improved with a beeswax polish, deeper scratches may respond well to furniture repair crayons, or you might like to distress them further or even paint them depending on your taste.
When measuring your find remember that the sizes we quote for our mounted artwork are the internal dimensions of the frame. Don't make the mistake of looking at the front and measuring the outside edges of the moulding – turn the frame over and measure the inside edge of the moulding, as this will give you the most accurate guide to the internal size that you can get without taking the frame apart.
If you have a bigger budget or are looking for a very particular style you can, of course, have a frame custom made. A quick Google search for 'picture framing in my area' should provide a list of bespoke frame-makers near you.
---