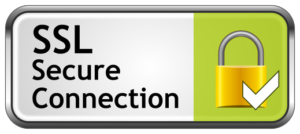 Thrilled Kitty is proudly joining Google's drive for 'HTTPS Everywhere', and we have now implemented SSL on every page of the site – look for the padlock symbol in your web browser!
So what is SSL (aka HTTPS)? It is a method of encrypting information sent over the internet to protect it from it from being viewed by a third-party. You will often only see it on pages that exchange sensitive information, like payment or login pages (look for the web address to change from http://website.com to https://website.com). This is an improvement on the old days of insecure browsing, but means that most of your data is still transmitted over an unencrypted channel and so can easily be intercepted and inspected without your knowledge.
You may have noticed that every page on Google, even plain old search and map pages, now features the padlock icon up in the address bar that indicates a connection protected by SSL. Other major sites such as Facebook and PayPal are quickly moving towards HTTPS site-wide to protect more of their users' information.
We are following the same path as we take the security, privacy, and integrity of your data very seriously. So whether you are browsing our latest cute cat photos in the blog or purchasing a beautiful piece of antique artwork, your connection is safe, secure and protected at all times.